PS4 Star Wars Battlefront II
Kód:
92169838
Podrobný popis
Prejdite vlnami nepriateľov na základňi Starkiller pomocou vášho svetelného meča v rukách. Prejdite cez džungľu skrytej rebelskej základne na planéte Yavin 4 so svojimi troopermi a potlačte paľbu AT-ST. Sformuje svoju eskadru X-wingov na útok proti First Order Star Destroyer vo vesmíre. Alebo povstaňte ako nový hrdina hviezdnych vojen - Iden, elitný cisársky špeciálny vojak - a objavte emotívny príbeh pre jedného hráča, ktorý sa odohráva v rozmedzí tridsiatich rokov.
Vyskúšajte bohaté a živé bojiská v režime multiplayer z prostredia všetkých troch trilógii. Prispôsobte a vylepšujte si svojich hrdinov, trooperov a stíhačky. Každý s jedinečnými schopnosťami, ktoré môžete využiť v boji. Jazdite na tauntanoch alebo prevezmite kontrolu nad tankami a speedrmi. Zostreľte Star Destroyerov o veľkosti miest, použite silu a dokážte svoju hodnotu proti ikonickým postavám, ako je Kylo Ren, Darth Maul alebo Han Solo, keďže hráte úlohu v hernom zážitku inšpirovanom 40 rokmi nadčasových filmov Star Wars.
Nový hrdina, nevyrozprávaný príbeh: Vykročte v sopach elitných vojakov špeciálnych síl, rovnako smrteľných na povrchu aj vo vesmíre, v novej emocionálnej kampani Star Wars, ktorá rozprava príbeh v rozmedzí 30 rokov a premosťuje udalosti medzi filmami Star Wars: Return of the Jedi a Star Wars: Force Awakens.
Ultimátne bojiská Star Wars: Multiplayer kde až 40 hráčov bojuje ako kultoví hrdinovia alebo autentickí trooperi pomocou masívnej rady vozidiel na zemi, vo vzduchu i vo vesmíre.
Vesmírne bitky galaktických rozmerov: Vesmírny boj bol prepracovaný od základov s výrazným vylepšením ovládania, zbraňami a možnosťami úprav. Zapojte sa do svojej eskadry a preleťte sa medzi poliami asteroidov, preleťte cez imperiálny hangár a zostreľte masívne bojove lode ako pilot legendárnych stíhačiek v napínavých bojoch s 24 hráčmi a 40 stíhačkami ovládanými hrou.
Lepšie dohromady: Stretnite sa s priateľom a zahrajte si spolu v režime split-screen(offline) z pohodlia vášho gauča.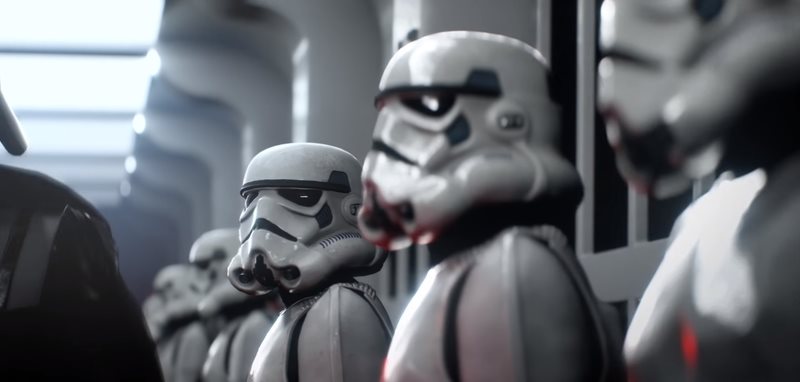 Dodatočné parametre
Kategória

:

Hry
Záruka

:

24
Hmotnosť

:

0.1 kg
Dátum vydania hry

:

17.11.2017
Digitální platforma

:

bez online platformy
Herný žáner

:

Akčné
Typ distribúcie

:

krabicová
Kinect pre XBox 360

:

Nie
PEGI

:

16
PlayStation MOVE

:

Nie
Virtuálna realita kompatibilné

:

Nie
Rok vydania

:

2017
Virtuálna realita pre PStation

:

Nie
Kinect pre XBox One

:

Nie
Herné prevedenie

:

Áno
Lokalizácia hry

:

anglická verzia
Buďte prvý, kto napíše príspevok k tejto položke.
Buďte prvý, kto napíše príspevok k tejto položke.